Bison, Stew, 1 x 1lb pack – Mohawk, Goshen CT
Additional Information
Product Description
From our partners at Mohawk Bison of Goshen, CT
Mohawk Bison, established by owner Peter Fay in 2007 on his families former dairy farm, is settled on the outskirts of Goshen, CT located in the scenic hills of Litchfield County. Preserving his ancestors' dedication to quality and sustainability, Peter strives to farm in a manner that provides balance between the animals and the land.

Keeping in harmony with the bison's natural genetic make-up, they are fed the way they are accustomed to, enjoying the open fields of their 60 acre farm. They are never subjected to questionable drugs, chemicals or hormones.

Cooking Tip
Bison meat is similar to beef, although needs to be cooked a little differently. The most important thing to remember when cooking bison is 
LOW AND SLOW
. Because bison meat is so lean it cooks faster than beef mainly because of the lack of marbling (fat in the muscle). Fat acts as an insulator which means heat must first penetrate the insulation before the cooking process begins.
Bison can be used interchangeably with beef in most recipes, so enjoy all your favorite dishes made healthier – buffalo chili, buffalo lasagna, buffalo stew – the list is endless.
Bison is a superb alternative to industry produced meat from domestic livestock. Nutritionally, you get more protein and nutrients with fewer calories and less fat. Many of the essential vitamins are covered including vitamin E, B5, B6, B12, riboflavin, niacin and folate. Bison is also rich in CLA (conjugated linoleum acid) an omega 6 poly unsaturated fatty acid (good fat).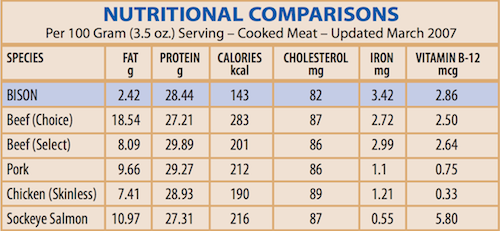 Fewer calories and less cholesterol than chicken or fish.

76% less fat than beef and 68% less fat than chicken, so you get more edible meat for your money.

35% more protein than beef so you can eat 1/3 less and still come away satisfied.

Eating 5 oz. of buffalo, 3-4 times per week can help most people reduce LDL cholestrol 40-50% over a 6 month period.